Thank you for taking the time to learn about Metaficient™ and The Metaficient™ Way. It's a new way to control a company's IT, including the spreadsheets that are the lifeblood of its daily operations. Now business professionals can control spreadsheets to dramatically reduce the risk of errors, control legacy data flow and most importantly, assure that the business is being managed your way. The Metaficient™ Way can significantly reduce technology costs and overhead by 70 to 80% and make your business more agile and efficient.
We are a next generation services and solutions provider for any company's business that is transaction based and relies on spreadsheets. Even though our expertise is in financial services such as hedge funds, broker-dealers, family office, private equity and 3rd party administrators, The Metaficient™ Way will work with wholesale, retail, inventory intensive businesses and accounting. It works with transactional data, yielding a scalable, reliable, auditable and secure solution. Metaficient™ Way is more than just about cost savings; it is about transforming a business by giving business professionals control of their technology instead of technology controlling them.
I spent most of my career in the financial services industry and started this company with the mission to serve it better. For a long time I have thought that better IT service and solutions could significantly reduce costs. maximize productivity, energize business and relieve workplace stress. Business professionals need the ability to change their technology solutions quickly, accurately and easily with platforms that match their business models and needs. Metaficient™ delivers that dream platform and solution.
We are about to start a new era in rapid solutions generation and maintenance providing unprecedented control, cost reduction and mitigation of business risk. Together we will change the world by upending the status quo, one process and one spreadsheet at a time across a multitude of businesses. The vision is simple; invert the traditional software cost pyramid. The path followed by most vendors and internal IT leads to increasing technology cost, which means more and more programmers. Firms try to limit costs by reducing the number of business experts, and depending on automation to run the business and its model. But lack of business knowledge soon leads to restricted functions, significant errors and makes it hard to respond and adapt to new and existing business needs and requirements. This makes it hard to develop new customers, and rising costs can drive old customers away in a fee compressed world.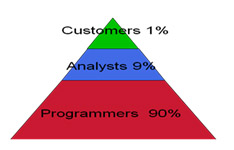 This pyramid structure (as presented to the left) seems to just get wider and wider at the bottom as the top gets smaller and smaller. This leads to a restricted business model with enormous fixed costs that will eventually choke off the front office productivity and the life blood (capital) of the business. Reducing the number of business minded professionals exacerbates the language mismatch that already exists between business executives and technology professionals as we see now in multiple articles about why CTO's cannot deliver required business applications. This practice is bad for the business, extremely bad for investors and potentially catastrophic for management.
Most vendors and internal IT professionals know about these issues and would like to deliver higher quality software and services that are agile, efficient and more productive. However the greatest obstacle to success isn't in their lack of desire to better serve their customers, it is much more fundamental. The way they develop software does not match the business models they are trying to support. The proof is in the number of disparate products they offer and the sheer number of programmers required in support of a large and increasingly unmanageable code-base. Each time they offer a new solution the result is higher costs, larger amounts of code, and greater inefficiencies that they in turn, are forced to pass on to their clients. For the businesses that follow this practice they keep adding more and more spreadsheets to fill the gaps in software exponentially increasing business risk. While at the same time letting business professionals go and with them goes the knowledge of the core model. The process is completely broken and getting much worse. As spreadsheets have been increasingly used to develop solutions that are responsive, they have amplified the likelihood and occurrence of material financial errors that can end a business. 
Enron's collapse, the Whale trade, Fannie Mae $1.3 billion error, Lehman Brothers CDO errors worth billions, TransAlta, AstraZeneca have much in common - lack of controls and spreadsheet errors that permeated the enterprise with disastrous consequences. Metaficient™ lets business minded professionals manage the business with the confidence that spreadsheets will be a useful tool, not the businesses' downfall. Although spreadsheets can be dangerous - to the tune of hundreds of millions or even billions of dollars - the good news is you can take control of them, efficiently, effectively and cheaply.
My goal is to make Metaficient™ the kind of company and solutions provider I wish I had access to when I was working in the middle and back office environments. Our approach is radically different and game changing. We provide rapid solutions and have matched our technological style to the business model. We allow business experts (analysts) to change the rules that control the behavior of software, leading to significantly fewer programmers and to faster and more frequent software updates in a fraction of traditional time frames. This change in focus from programmers to business experts significantly reduces the cost of software, makes the business more agile and eliminates the risk associated with the overuse of spreadsheets.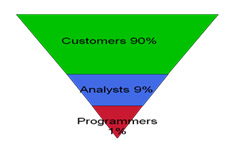 This simple event of matching process to technology inverts the traditional cost pyramid, commoditizing software for the first time. Our technology allows business professionals to control the system, they can make changes, they know how and why it operates, which restores transparency to management and restores predictability. As Metaficient™matures one expert can support many customers and a few programmers can support many more business experts which reduces the cost of technology exponentially. This is a superior and game changing business model. Ultimately our solutions and architectural style will be the new standard in solution's development for financial services and other industries.
We call our business model and matching process the Metaficient™ Way.
Thank you for us introduce our company Metaficient™ and The Metaficient™ Way. We look forward to working with you and your company to change the world.
Best Regards,
Daniel F.Clune
President & CEO